Be Creative: Artists Never Stop Learning
A few weeks ago Nicole & Shawna took a trip to Mayesh OC to participate in the "Francoise Weeks Botanical Couture Workshop." There was so much fun to be had as they spent the day designing botanical masterpieces with purses, shoes, headpieces and jewelry. Floral accessories are becoming more and more popular in the industry, so Shawna & Nicole quickly jumped on the opportunity to advance their experience working with these design elements.
When we're in the studio designing floral arrangements, we love to play with different textures and methods of designing. The SY & Co. team has spent a fair amount of time creating different headpieces, jewelry, purses, and shoes with florals- so this whole workshop was right up our alley! Below you'll find images courtesy of Wheeland Photography that detail the evening with Francoise!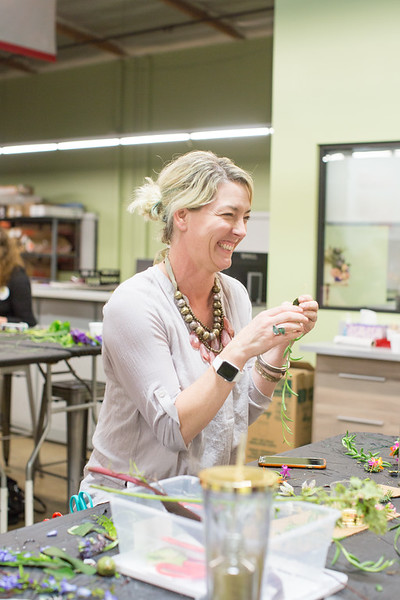 ---
Franchise's workshop was an amazing experience as she travels around the world to share her design techniques. Her European style translates into a gorgeous natural and textured way of designing florals.  We spent the evening discussing and practicing the mechanics behind her organic designs! 
---
Floral headpieces are so fun to work with!! We used gorgeous vibrant red and yellow flowers, foliage, and bundles of berries to create our headpieces. Purses are constantly being requested from our clients- they're used as bridal bouquets, flower girl bouquets, or simply focal pieces at an event. We used foliage, leaves, feathers, and small blooms to design these.
Working with Francoise was so amazing. Her work is beautifully intricate, natural, and textured. We can't wait to introduce some of her techniques to the way the SY & Co. team creates floral designs!
Here are just a few examples of the work we've done in the past...and we're already looking forward to creating more!